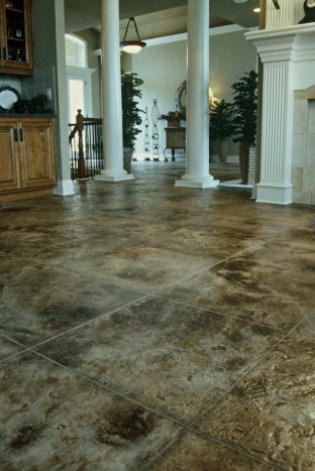 Austin Stampcrete specializes in artistic and decorative concrete finishing work. Our professionalism and reputation for high quality decorative concrete finishing will help you find the best solution for any of your concrete needs. Certified in the fine art of Decorative Concrete Applications, we furnish and install all types of concrete work including driveways, sidewalks, patios, pool decks, stairs, and interior concrete throughout the home. We offer many different options for decorative concrete installations. We can pour new slabs of Decorative Stamped Concrete, or beautify boring or unsightly existing slabs with thin overlay systems! Our overlay systems are some of our most popular products that we offer. The different techniques used for overlays include the following: Stamped Overlay Systems, Spray Texture Systems, Reflector, and Acid Stains. Please take a moment to view the galleries of each of these beautiful finishes! They are sure to turn your boring existing concrete into a work of art!!!
At Austin Stampcrete, we pride ourselves in the quality of our work. We guarantee our craftsmanship and provide an extensive 60 month transferable warranty against any defects. We use only the finest admixtures and high gloss sealers to achieve a rich look that lasts for the life of the concrete. Our installation and work ethics have earned us an impeccable reputation throughout the Tri-state region. With many colors and patterns to choose from, there is no limit to the possibilities of creating any atmosphere that you desire. A patio that transforms your backyard into a tranquil retreat, a beautiful pool deck with all the room you need for entertaining, an elegant driveway that sets your home apart from the rest, or the perfect pathway leading guests to your front door.
Let Austin Stampcrete turn your property into the outdoor living space you've been dreaming about. Thank you in advance for the opportunity to work with you on your upcoming project! We want to EARN your business, so give us a call today for a free, no obligation estimate on any project that you have in mind. Please take a moment to view the different galleries in this website to determine the "look" that you desire to achieve!
Our Mission Statement
Our mission is "To enhance the beauty and value of every client's property, while exceeding their expectations, every step of the way."
Why Choose Austin Stampcrete? ...
Many companies provide components of decorative concrete services. Some sell products, some stamp concrete, while others may only want to install certain overlays. Granted, some of these companies do a reasonable job on a project basis, but yet it's just a task and then on to the next one. It's not their mission or their lifeblood to envision your decorative concrete at its full potential, to increase the value of your property, or to develop a long-term relationship with you as a client. And although you may invest in a costly project, they may not be around the next time you call them, because their employees come and go, and many times, so do these types of businesses. Austin Stampcrete is different ... and that's the single reason we have stood the test of time. We are in this business for the long haul, offering a full range of ALL Decorative Concrete products and services to a client base that values quality work and professionalism. We are uniquely prepared to do much more than just the average company who provides only one or two services. We are experts in decorative concrete design (3D and CAD) and construction. We invest in the talent and the equipment to create decorative concrete installations that mirror the lifestyles and unique tastes of discriminating clients, while adding distinction and value to their properties.
Our designers integrate the natural beauty of Stone, Slate, or Cobblestone with the elevation of your home and the natural terrain of your property. They use color, texture and innovative designs to make your decorative concrete an expression of your individuality and your good taste. We are committed on a daily basis to fulfilling our mission, "To enhance the beauty and value of every client's property, while exceeding their expectations, every step of the way."